Dearest Readers,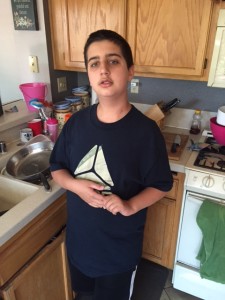 If you're reading this, you're probably curious on my thoughts on the vaccine law in California. Many people have asked me what  I think, and so I have been forced to think more and more about it. I'm going to be honest, I hate thinking about it. I try not to. If I think too much about the "What if's," I might lose my mind. What if I hadn't vaccinated him, what if I would have gone with the way I was raised and questioned things in the medical field….. what if? What if he would have grown to be a normal boy? What if he didn't struggle the way he does? What if it was MY FAULT he is the way he is because I BELIEVED that it was safe for EVERYONE?
Many of you grapple with this question of vaccines with the "What if's," too.  What if you do vaccinate and your child is injured, what if you don't and your child get's sick?  What if someone else unvaccinated kid gets your child sick? I get that. I know that feeling.  But realize I'm coming from a different place than most of you. My child is sick. His life is forever altered.  He will never live alone. He will never poop in the toilet.  He will never have a girlfriend, a real job, a wife, a child, a love of his life.  He will always be severely disabled.  And Jason and I will be taking care of him like this until we are dead and then likely his siblings will take on this role. I'm going to warn you right now. This post is sad.  It's not happy and positive and wonderful.  If you're looking for that, read this Blog Post "A Letter to My Special Needs Son".
So you want to know what I think about the law that says you have to be fully vaccinated without exemption to go to school or daycare? It makes me sad.  And it makes me worried.  I had a choice.  I saw what happened to Ben, starting reading, doing research, and was able to choose differently for my other kids.  I have never told anyone else what to do, and in fact, if someone asks me my feelings on the matter, I make it very clear that it's a very personal choice and they should never make their decisions based on what I did. They have to choose for themselves.
But now I'm speaking out about our story.  I'm speaking out because people are so angry and hurtful  in their social media and personal comments about those who choose a different vaccine schedule or choose not too.  Every mean and angry article that was posted about people who choose differently, I read it, and it hurt me to the core.  Every time someone ignorantly tells a non- vaccinating parent that she just listens to Jenny McCarthy, or that doctor whose studies were said to be falsified that they are wrong because of these  two things……. or because they are just plain stupid or ignorant or a bad parent…….. I wanted to scream………. IF YOU SPENT ONE DAY IN MY SHOES, IF YOU HAD ANY IDEA OF WHAT OUR LIVES ARE REALLY LIKE WITH BEN, YOU WOULD UNDERSTAND. IF YOU REALLY KNEW HOW HARD IT IS TO LIVE WITH THE "WHAT IF'S" THAT WE AND MANY PARENTS LIKE US LIVE WITH EVERYDAY, YOU WOULD UNDERSTAND!!!   I can promise you, unless you had to do a Masters Thesis on the subject, or are in the medical school, you have not read as many articles, as many studies, as many pages or reports as a Special Needs parent who is left to wonder………WHAT HAPPENED TO MY CHILD? For the record, I didn't read any Jenny McCarthy books until long after I stopped vaccinating my other kids.  Hardly any of the people I know who chose to delay or stop vaccinating read her stuff.  So I want to give you the opportunity to come into my world for a bit.  Walk in my shoes, and then if you still want to tell me I'm a hippy stupid idiot for not vaccinating my other kids as babies, go ahead.  But first, walk with me…………. and don't stop till you get to the end.
Before you enter my world, I want to give you a few facts as you read.
Benjamin is the only person in my personal bloodline fully vaccinated on schedule.  My sister, brother, and I were not vaccinated as kids, and my parents had only a few vaccines as kids. After Ben, I stopped vaccinating my kids as babies.  In the last two years I have caught the boys up because I figured their immune systems were healthy enough to take it, and I didn't want them to be socially ostracized for not being vaccinated.
I have heard from MANY families over the years that have much more detailed and obvious vaccine injury stories than I do.  But they, too, are too scared to speak out because they are too tired, too exhausted from trying to live their lives to deal with being called a loon, or crazy, or stupid, or delusional.  So they keep quiet because they can't handle the backlash.
MANY families who have one with an Autism Spectrum disorder have others in the family on the spectrum, especially boys. I stopped vaccinating.  My other kids are totally FINE. In fact, they are the healthiest kids I know. When they get sick, they are sick for 24 hours and then it's gone. They have VERY healthy immune systems, functioning just the way they were designed to.
Ben reacts opposite to MANY medications. If it's supposed to make him tired, it makes him hyper; if it's supposed to take away appetite, it increases it.  If it's supposed to calm him, it makes him insane. I do not think it would be crazy to say that he had an opposite reaction to vaccines as well.
He was born normal. He had no lack of oxygen at birth, even though he was born via Cesarean, his heart rate never went down, only up.  I used to question this, he had low muscle tone when he was a baby. He was tested at 11 months old by North Bay Regional Center because I was concerned about it. He tested totally normal on every test: social, emotional, cognitive, fine motor, expressive and receptive language. The only thing he was delayed in was gross motor skills.  So was Hannah.  She's now almost 2 and totally on track. He had the classic regression at around 18 months, where he had language and it went away. He started having staring spells that were probably seizures, but we didn't know that then. All of this started shortly after the MMR vaccine. He did not get an autism diagnosis until he started having grand mal seizures at age 7.
I read many, many articles when the recent measles outbreak happened in Disneyland.  No one died.  No one was even very seriously sick, just a rash and a fever. I read the pro-vaccine, and the anti-vaccine, and the simply "pro-choice". I found it very interesting that the pro-vaccine ones were mostly emotional, pulling at your heartstrings, and feeling angry and hurt that other people's choices could affect your own children's health.
But the anti-vaccine or pro-choice articles were filled with research studies, science, and sound medical facts.  Check it out. It's fascinating.
So here we go……… take a walk in my shoes. Live my life for a day or two….. and if you still want to call me names and tell me I'm wrong go ahead. But read to the end.
Go to bed with me at night. It's midnight, you've just gotten Ben to bed, you're exhausted. In fact, you're angry. You aren't sure if you're mad at yourself, at him, at God…. but you're mad.  He wouldn't go to sleep again………. despite the Benadryl and Valium and Ativan….. he's wired. Lay next to the monitor, listening to his every breath as he goes to sleep. Every night, for the rest of your life. You will be listening your big boy breathing in the monitor as you go to sleep till the day you die. Pray there isn't a power outage or internet failure and you miss a big and dangerous seizure or escape attempt as you sleep. Wake up at 3 a.m. with him as he decides it's play time, and watch as your husband goes downstairs to sleep on the couch with the monitor because he can KINDA sleep through Ben's noises and awakeness, but you cannot. Wake him up in the morning and pry off his pee-soaked clothes and decide whether or not his sheets can make it another night, or is it just too smelly to bear. Wipe his butt. Get poop on your fingers, your arms, under your fingernails, sometimes even your face.  Everyday. Several times a day. See him in his 14 year-old manhood. Growing into a man, knowing he will never know the touch of a mate, or the love of a woman.  Grapple with that.  I dare you.
As you prepare him for the day, doing everything for him, and then shovel 5 different kinds of meds into his little body…Hating every one. Wishing with all your heart they weren't needed. Watch him take a head dive into his cereal bowl with a seizure. Spilling all the milk everywhere, and having to change all his clothes and diapers, and wash his hair. Rush.Try not to cry. Send him off to school. Try to go about your day. Try. Try going to the gym, checking your phone every 5 minutes during your intense workout just in case the school has called to say he has had too many seizures for them to handle. Wonder what he's doing at school, if he's happy, or sad, if he likes it or he doesn't. Is he being abused? Physically? Sexually? You really wouldn't know, he can't tell you. Pick him up from school, ask him how his day is, because even if he can't answer, you just desperately want him to know you CARE!! You're always ready, always waiting for that breakthrough. Once home, more poop, more diapers, more glaring in-your-face manhood that will never be realized.  He's bored. Easily. He makes messes everywhere he goes. He rarely wants to even be in the same room as us.  Miss him.  Miss what he could have been. Wonder. Wonder what he could have been. Don't sit down for more than 5 minutes at a time when he's awake and home.  You never know what he's getting into, or he may even be trying to leave the house.  Be in a constant state of alert and alarm.  Always. Whether you're with him or not.
Go to church, without him.  Praise God for healing your brother, your sister, other people's kids……… and wonder why God isn't healing Benjamin? Grapple with that. Love and Praise God anyway. It's not His fault.  It is what it is.
Have your brand new hand soap, spray cleaner, dog shampoo, bubbles, spices or cleanser that you JUST bought opened and dumped out. Laugh as other people just tell you to put a baby lock on the cabinet to keep him out. He's taller and stronger than me. There is no keeping him out of stuff. And try as I might, I can't watch him every second.
There's a BBQ tonight for Elijah's baseball team…… you weren't able to get care. So you have to go without your husband; you can't be together as a family. Ben can't or won't go anywhere these days. Not to the park, not to the baseball games, not to church. Not to a movie, not to Six Flags, not to the pool.  He hates all of it. He's too big to force to do things anymore. So we split up.  And then the days we do get care, come with us as I introduce our family to new people….. dying inside knowing our whole family is not here, not represented. Newer people in our lives don't even know Ben. A little piece of me dies every time that happens.
Or come with us as we attempt to go to one of the other kid's sporting events…Ben will stay in the car, for a while, but then he get's bored. He gets out, runs around, and then runs back the car. His butt and diaper are hanging out as others look at us scrambling after him in a fury.  People are feeling sorry for us, thinking we are some kind of freaks or heroes. We don't like people feeling sorry for us. We are not heroes; we are just doing the best we can with what we have been dealt. Grapple with the fact that Jason and I will NEVER be able to go away alone unless we want to go knowing Ben will probably have lot's of seizures because of the anxiety of us leaving, or not being there.  It's happened twice already when we tried to leave for one night. We left in the middle of the night both times. I don't imagine we will ever be able to fly anywhere as a family.
Be embarrassed at the state of your home, because a) you can't have nice things since Ben pees and poops and pours spices and soap all over everything. He opens things, breaks things, colors on things, spreads stuff out, dumps things out, and just causes disarray everywhere he goes. And PLEASE don't compare his mess-making to your toddler. He's not a toddler; he's 5'3″, 150 lbs. It's what he likes to do. That, or it's a coping mechanism for the daily pain he's probably in. Or b) because you're so busy cleaning up his messes you don't get to the deep cleaning stuff like the shower doors and mopping the floor. Don't let people in. They wouldn't understand. They don't know what it's like.
It's dinner time now… make him different food because he won't eat what you make for everyone else. Worry about his health. Worry that he's dying inside because you really have no idea what's going on in his body. Hardly ever eating vegetables and pumping him full of INTENSE meds everyday, but he won't sit for a blood test.  Try, try it with me. Try giving him Valium that works for everyone else, but not for him. He won't be held down… we can't test his blood without putting him all the way under, something the hospital doesn't warrant necessary.  Too much work. He's just a kid with special needs.
Try watching your child, your first child, whom you love with all your heart, shake and tremble in seizure, fall over, hit his head, foam at the mouth, go purple. Watch all that happen. Then tell me if there was a 1% chance that vaccines caused that, that you would continue to give your other babies those vaccines.
THEN come with me, to doctors in Hayward, Sacramento, Oakland, San Francisco…come with me to expert after expert, test after test over the years….. and hear them with all their schooling and expertise tell me, "We have no idea why Ben is the way he is." No one in all of his years has been able to give me any kind of clue as to what happened to him. No one except……….. a few off-the- grid doctors who point me to the written inserts in the vaccine packages themselves, that point to possible risks of seizures, brain swelling, autism, death. Sit with me while I pour over article after article that says things like: over 50 people have DIED from the MMR vaccine in the last 12 years…… but NO ONE has died from measles, mumps, or rubella!!!! (in the US). Or that measles and polio were on their way down long before the vaccine, due to other changes like hygiene and antibiotics. I don't KNOW that vaccines caused Ben to be like he is. But I DON'T KNOW THAT IT DIDN'T!!!!! And either do you.  Most of the studies that say it doesn't have anything to do with autism are flawed. There have been whistle-blowers coming out left and right saying results were fudged, one way or another.  Whole populations of people were left out of the study because it showed a link. Most of the big studies, the ones that take a lot of money to do, the ones everyone listens to, are FUNDED by the Pharmaceutical companies that stand to lose a lot of money if a link is found.
This is why the new vaccine law makes me sad. I don't ever tell anyone else what to do with their kids. I don't share my view because I am too exhausted by my daily life to fight for a cause. Just posting that I had an opinion and I was going to blog about it brought on slew of people trying to fight with me and others about it on my facebook page. I cried all day. I don't want people to dislike me because of my choices. I love people. I'm just trying to stay afloat here. I'm just trying to be the best I can be for the family that God gave me. I love them. All of them. I'm so thankful. Even with all of these hard things I have listed above….. I have joy. Everyday I have joy and peace and thankfulness. Our lives are so blessed, because of Ben, through Ben, and surrounding Ben. God is our rock, our savior, our everything. Through our Faith in God, we do not despair, we have hope for a future for Ben.  Something beyond the pain and despair of this world. We know Ben's life is not an accident, and are confident that God is using Ben's life, regardless of how difficult it is on him and on us, for HIS Glory. However, it does not take away the above facts.
I am confident, that if you were to really spend the time, living my life, walking in my shoes, poop on your arms, pee smell everywhere, fighting, grappling, crying… you wouldn't DARE tell me I should have vaccinated my other kids. Or that I should not have had the choice not to (or home-school them). And because I'm thankful I had the chance to wait, I am very sad, and angry that there are those who are trying to take the rights away from others. It does NOT seem to be based on science. It seems to be based on money and scare tactics to the general public who don't really know much at all except the fear in their hearts. I'm sad for my friends' kids, and especially for my one-day grandkids.
Thank you for taking the time to read this. Now please be soft and loving in your responses. I have cried all the way through writing this. It's hard for me. I am fragile. I am tired. If you still want to debate, or inform me of how I'm wrong, take a few days. Sit on it, and come back to me after the emotion has worn off. Please. I beg of you. If this post has effected you, and you know someone it would benefit, someone who needs to share it,  please, share away. I love you. I love your supportive, loving comments, and prayers. Thank you again for listening.